Top 3 GameMaker Udemy Courses
I bought and watched a bunch of courses, but If I had to choose only 3, these would be the absolute best GameMaker Studio 2 courses on Udemy.
Precisely because I bought quite a handful of GameMaker courses on Udemy (and I still buy the occasional new shiny one) I feel confident enough to say that if I had to choose only three of them, these would be the absolute top 3 GameMaker Udemy courses I'd buy again!
These are referral links so if you decide to sign up, you will support me and this blog while learning from the very best courses available on Udemy right now!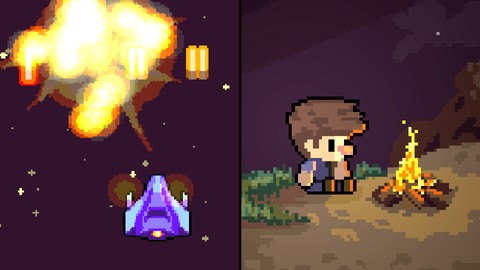 Instructor: Benjamin Anderson, Aaron Craig
Duration: 9.5 Hours
This course holds a sentimental value to me. I remember coding Super Cave Boy (the platformer game shown in this course) with GameMaker Studio: 1.4, following Ben's original course (always on Udemy).
It's been my first introduction to serious, thoughtful and structured game development in GML. Since then I watched every single video of Ben (aka Heartbeast) on YouTube. He's one of the best known and deservedly respected GM:S and GMS2 instructors.
This course is a solid course and this time Aaron Craig (@beyondusgames) does a terrific job by teaching the Super Cave Boy part (the platformer game) in this GMS2 course while Ben's teaching the Blaster Faster part (a revised version of his old course's space shooter game). You get to code two games in one single course and you understand a lot of fundamental concepts here.
Instructor: Peter Morgan
Duration: 11 Hours
This is a surprise. It's a bestseller course and yet I don't know who this Peter Morgan is. I never saw a youtube video of his and that's odd. You'd think that a Udemy instructor this good, should, at least, have dozens of published courses and a gazillions of videos on YouTube!
It turns out that Peter Morgan is a Math teacher. That's precisely why this course is so good: he knows how to teach and he knows what he teaches. While I don't find his own games that interesting (sorry Peter) this course is a real gem.
Right now it's the best selling GMS2 course on Udemy and it surely deserves it. He just teaches stuff you don't learn in other courses. There's tile collision, lighting, particle effects and much more.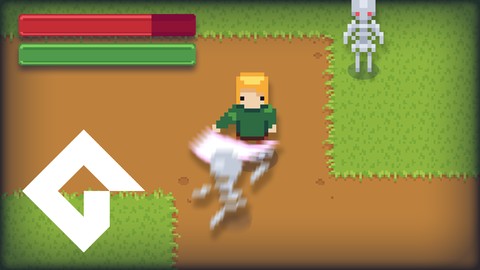 Instructor: Gurpreet Singh Matharoo
Duration: 2.5 Hours
I didn't think I could learn so much stuff in 2.5 hours but I was wrong. Gurpreet has a gift! He's concise yet complete in his lessons. He knows your time is precious so instead of doing stuff on screen, typing letter by letter, he explains what he already coded (and in great detail).
For this reason, watching his courses is a very different feeling; once you know your way around GameMaker, you crave such brevity. Because you can't stand typing boilerplate collision code again and again, you start seeking these "to the point" courses. For instance, you don't want someone to hold your hand line by line, but someone who can show you how stuff's done and why it's done in such a particular way.
This course is precisely that kind of course. It's like a shot of condensed GML knowledge right into your brain. Pair this course with the previous two and you're going to have enough knowledge to be dangerously skilled in GameMaker Studio 2.
Closing thoughts
I know there are many other GameMaker courses on Udemy but these are what I believe to be the most in-depth, well thought, well planned and well taught courses out there, right now.
---
I've been entertaining the idea of writing a book and make tutorials myself for quite some time now (for well over a year). Unfortunately my day job (I'm a Laravel/Vue developer) really took a toll on me and I've been mostly occupied with other things. I steered away from my original plans and I put everything on hold… but… lately… I've been collaborating with Zingot on something.