Book Update – 2018-09-01 – It's taking shape
So I found an artist willing to collaborate with me on my GameMaker Studio 2 book. Thank God I can work with him once again! He's the most talented Pixel Artist around. He knows about game development and the whole process and he can draw pretty much everything you throw at him.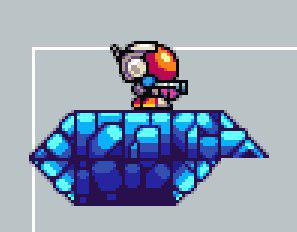 I bet you can recognize his style! "Guess who's back…" nudge nudge wink wink…
What this means for the project
This will have a major impact over the whole project as the entire graphic assets will be distributed along the complete source code of the game. It will be freely modifiable and it will be freely available to be used in commercial projects as well as long as the original art credits will be included (you know, he remains the father of the original pixels).
You won't be able to redistribute the graphics in reusable formats though. But this is to be expected. Your customers or your game's players should not be able to export the graphics and re-use it for other projects. They will have to buy the book if they want to do so.
You're also free to use the graphics for other game engines as well. You're not restricted to GameMaker Studio 2… and to be honest some of the book's concepts apply to other engines as well.
I'm rewriting the whole book from scratch and I hope to have the initial draft for review by December.
Video tutorials
The book will come with the complete development process on video. You'll have free access to the complete development process. I'm recording everything I do and I will be editing it once the book is being finalized.
Like the idea? Support us
If you like the idea about what we're doing here, please buy us a coffee. It will send us a strong support message. Also the more coffee, the more content we will be able to fit into the project in terms of both assets and development contents.
Thank you!
P.S. just in case you didn't get it, the artist is obviously Darftey!